Best Paraphrasing Tools and Free Article Rewriter
A research paper can be defined as a document that contains a presentation of your argument, ideas, and opinions on a particular topic. Paraphrasing is important in your research as it helps add importance and value to your work. The main reasons for research paraphrasing are to add relevance to your work while taking into account the opinions and ideas of other authors.
How Paraphrasing Tool Works
A paraphrasing tool or article rewriter tool can change the meaning of a sentence through the use of words with a similar but subtly different meaning to the original. For example, the word "picture" could be replaced by the word "image" or "photo ". 1000+ word-for-word combinations are saved in either a text file or database thesaurus to draw from. This ensures that a large percentage of words are different from the original article.
After doing some research I have come up with a list of my top 5 free online paraphrasing tools:
1. Plagiarism Detector

Weirdly enough a plagiarism tool has one of the best paraphrasing tools I have ever seen. This is because plagiarism works hand in hand with paraphrasing.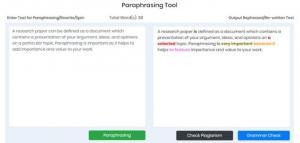 This test was performed with a short body of text. I recommend this tool for larger bodies of text because it helps the paraphrasing stay within the context of the most immediate set of sentences and it's easier to proofread.
The Paraphrasing tool by Plagiarism Detector changes individual words in the content, and the AI allows it to stay relevant and not lose the fundamental concept of any given content.
2. Paraphrase.Projecttopics.org

This is an all-purpose research website with a very effective Paraphrasing tool.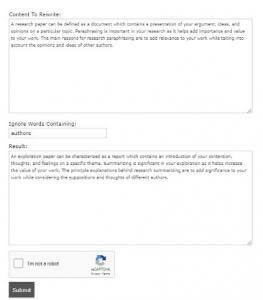 Most of these paraphrasing tools work in the same way.
"Type or copy and paste in the text box whatever it is you wish to rewrite. If you have already looked over your article and you are satisfied with the spelling and grammar, then enter the correct (Recaptcha) answer and then click the 'Submit' button. Your re-written work will appear."
I found this particular tool especially useful because of the Ignore Words Containing box. This is useful when considering SEO keywords and essential words for your write-up.
3. Quillbot

This is easily the most popular free online paraphrasing tool available.
It works in such a way that its AI rearranges sentences on a larger scale; meaning it is best for large bodies of work.

My favorite feature of this tool is the fact that it gives options. You can rephrase/re-quill sentences in different ways, allowing for several writing styles; Standard, Fluency, Creative, Suggestive, and Concussive.
Quillbot, despite being a free tool is remarkably simple and easy to use. By reworking an article enough times, you can come up with something fairly unique if you're willing to put in the work.
4. SEOMagnifer

This tool is easy to use and pretty fast too.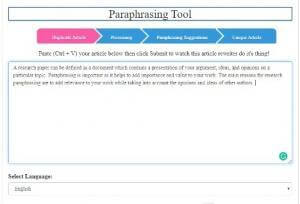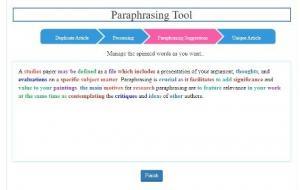 This has a select language option. This can prove to be useful when paraphrasing bodies of work from other languages as I always recommend paraphrasing in its original language before translating.
Another feature I like is the extra word suggestions. It allows you to change individual paraphrased words to help maintain the continuity of writing.
5. RepostSEO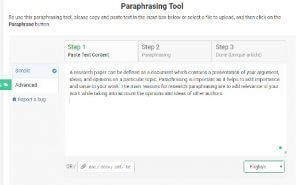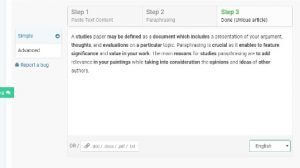 This is a simple and direct tool. The AI is pretty good but sometimes you'll need to review the words to confirm the suggested change was relevant.
Conclusion
So, which of these is the best? You may ask. Honestly, it depends on what you're looking for. As a researcher I recommend paraphrase.projecttopics.org, and as a creative writer, I recommend quillbot. But in any case, they all have different features to offer, and sometimes you can mix it up to give your write-up a truly unique feel. Whatever you pick, ensure it suits your work style. Thank me later.